F1 2017 Pre-Season Testing – Day 4 Recap and Analysis; 'Slippery When Wet'-edition
As the 2017 Formula 1 season draws near, many fans flock to F1-related pages in order to keep up with the latest developments as teams test their new cars before the season starts officially on March 24th, 12:00h local time in Melbourne, Australia – when the lights for the first free practice session of the Australian Grand Prix turn green. In these series of posts, I will transcribe the most important stuff happening on track on an hourly basis, and follow it up with an analysis based on 2016 testing results.
This post will detail the goings-on at the Circuit de Montmelo for already the fourth and (for now) last day of testing, on March 2nd, 2017. If you want to know more detail about these pre-season tests, or want to know the importance of it, feel free to read this post first. For the recap and analysis of day 1, you can click here. Day 2 can be found here, and day 3 here.
The Morning
9:00: Today marks the wet weather day: in advance, trucks have sprayed the track with about 250.000 liters of water. Sadly, we won't see Williams taking part today, as they lack the aero replacements needed after Stroll's clash with the barriers yesterday. We do get to see Verstappen, who has become the champion of wet weather racing since the Brazilian GP last year. He is also the first one on the track, right when the lights turn green. While the cars understandably don't set any blistering lap times, they do create some great photo and/or video opportunities. Verstappen tries on the intermediates, but heads back in before setting a lap time – it might arguably be too wet still.
10:00: Mercedes confirms their car has an electrical problem, which is why they haven't been out yet and won't be for the rest of the morning session. Verstappen returns on the track and finds his intermediates do work this time around, recording a 1:38.286 which is the fastest lap at this point in time. Others follow suit in switching to the intermediate type tire, and start improving their lap times. Raikkonen is the first to bite a big chunk out of Verstappen's lap, with a 1:36.509.
–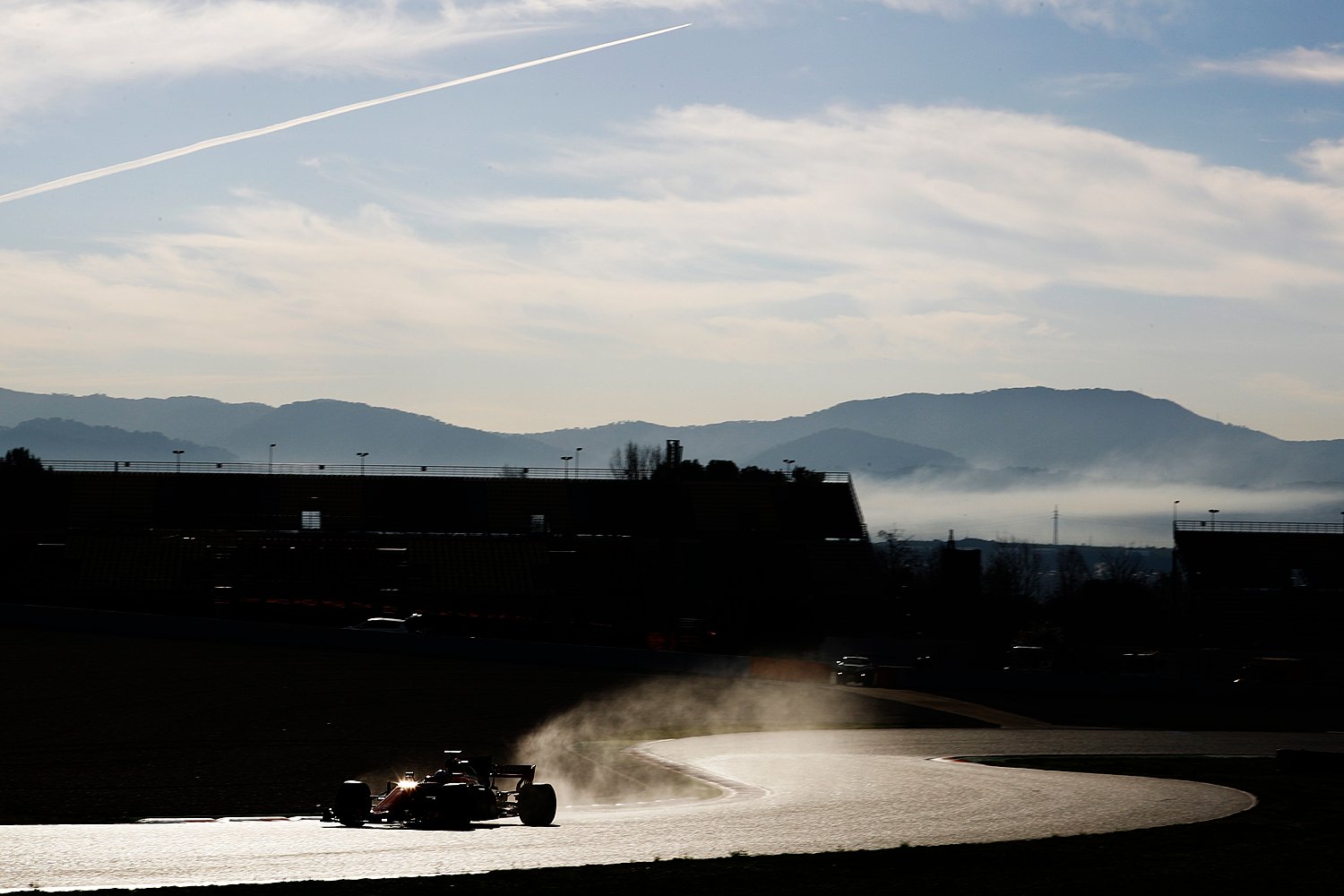 –
11:00: As the drivers drive more and more laps, a dry line is starting to develop on track. Verstappen, once again, is the first to prove the track is drying by setting a 1:29.867 on the boards. Meanwhile, Perez is out for the first time, having sat on the sidelines for about 2.5 hours. With the hour almost over, it is again Raikkonen to bite a big chunk off Verstappen's lap: 1:25.707. With just six seconds between the fastest lap recorded and the fastest lap today, this is proof of the track nearing a dry state. This doesn't stop Giovinazzi from having a small spin.
12:00: Toro Rosso seem to experience problems, as Kvyat has driven just one lap up until now. Nearly all drivers are driving laps on normal dry weather tires now, which is reflected in their lap times. Vandoorne does a run on ultra softs and drives a 1:24.348, immediately followed by Raikkonen completing a lap in 1:22.305 on the soft tire. As times dip to near regular times, Pirelli announces they will use the lunch break to again plunge the track with a ginormous load of water. Just before the time is over, Mercedes opens their pit box having fixed their electrical problem, enough for Bottas to drive some laps before the checkered flag inevitably falls.
–
–
The Afternoon
14:00: As the track has gotten a fresh layer of H2O, Bottas is the first to head out into (for him) unknown territory. This time, however, the track is prone to quicker drying, as the temperatures have reached 18 degrees Celsius. 25 minutes in, Bottas already switches to the intermediate tire with only a few other cars on track. Still, there is enough water to do some exciting fly-by's for the camera's.
15:00: Bottas switches to the soft compound and records a 1:24.850, showing the current state of the track. Just a few minutes later, he has already taken a second of this lap time. Hülkenberg sits out the remainder of the day since he is replaced by Palmer behind the wheel. Grosjean is the first to reach full race distance for today making up for the lost distance from yesterday.
–
–
16:00: Raikkonen is the second to reach race distance, followed by Bottas. It is impressive how Mercedes can lose almost an entire morning's worth of testing, and make up for it in about two hours time. Verstappen is the first to dip below the 1:22s, driving a 1:21.583. He is the fourth driver today to drive a race distance (66 laps). From the paddock, Toro Rosso confirms they are changing the engine in their STR12, hoping to give Sainz a chance to drive at least some laps in the closing hours of this week's testing. Raikkonen, unhampered from any technical issue, kicks Verstappen off the top of the list for a third time today, but this time with a smaller margin. His 1:21.324 was driven on the soft tire. I wonder if Ferrari forgot to order super or ultra softs, as they haven't used them all week…
17:00: Grosjean crosses the 100 lap mark, while others are doing runs on super soft and ultra soft tires to improve on their lap times. Raikkonen doesn't care about them, as he drives a 1:20.872 on regular softs, remaining by far the fastest of the day. And, as it turns out, he will remain as such. Toro Rosso sadly fails to swap their power unit in time to make it in time before the checkered flag drops for a final time this week.
–
–
Analysis
To compare these results like we did yesterday and the day before, we need to take the weather into account. In 2016, the last day of testing was held on February 25th. At that time, it was a sunny day peaking at 16 degrees Celsius in Barcelona, with mild winds reaching 25km/h. Today, temperatures reached 18 degrees, with wind speeds up to 20km/h – once again remarkably similar to last year. However, last year there was no wet weather test on the final day. Still, teams have been given enough opportunity to drive in the dry as well, as especially during the afternoon session, the track dried within the hour.
–
–
As you can see by the missing bars, Williams and Toro Rosso failed to provide us with any lap times. Williams because of a lack of replacement parts, Toro Rosso couldn't finish replacing their engine in time. It is also refreshing to see Mercedes running into problems. Their lap time should not be taken seriously, as Bottas was just coasting today – and, their lap time last year was decidedly slower than their other testing results as well. With the exception of McLaren, everyone was slower than they were yesterday. McLaren being the only one improving on their lap time in regard to yesterday comes as no surprise, as they had their first problem-free day yesterday and they were not pushing the limit as to not taunt the gods.
Ferrari is again on top. As far as I know, they haven't even touched the super and ultra soft compounds, so they can still improve on their time driven yesterday (1:19.153). Mercedes' problems today meant that they could come closer to their total laps driven, but are still nearly 100 laps down. Toro Rosso seems to be most hampered by technical problems, as they have only done 183 laps in total. That is 45.75 laps per day, or just 32.9% of Mercedes' total laps. Williams' lack of track time is due to Stroll's many excursions off the tarmac, while McLaren finally seem to have fixed the problem which kept them sidelined for the first two days.
Red Bull, Force India, Haas, Renault and Sauber seem to be doing fine, though Force India has regular exhaust issues (burning off the top of the rear crash structure due to a possible design flaw) and Haas seems to not have entirely fixed the brake-by-wire issue which affected them last year.
–
–
Below is the final graph for average lap times. Last year, the averages combined showed an average time of 85.831 (1:25.831), while this year's average is an astounding 82.726 (1:22.726), a difference of 3.105 seconds, or a decrease by 3.62%. This is also remarkably close to the difference just on day 1, which I calculated to be 3.66%. Formula 1 has gotten faster, a lot faster, and it already makes me giddy for Australia. But first, we have another week of testing ahead of us!
–
–
There will be no predictions for tomorrow, as this was the fourth and final day of testing for this first week. I hope to return next week, as testing will resume March 7th until March 10th. I will post an analysis on this week's testing combined with a preview to the second week approximately this saturday. I hope you enjoyed reading this as much as I enjoyed writing this week. In the meantime, to support me writing this blog, why not share it on facebook or twitter, or consider whitelisting me from your adblock (I have one ad positioned in the sidebar). You can also give me an upvote in the reddit thread, which helps with the exposure on /r/Formula1!